Smith House
Frank Lloyd Wright Smith House Tours
Public Tours May 7 – October 21
Tours offered on select Saturdays and Sundays of each month.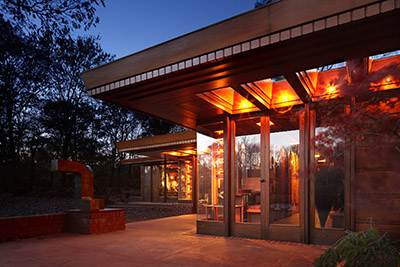 School teachers Sara Stein Smith and Melvyn Maxwell Smith, undeterred by their modest salaries and guided by a shared love of architecture, met Frank Lloyd Wright at Taliesin in 1941 and commissioned a custom home. The Smith House in Bloomfield Hills is an excellent example of Wright's Usonian ideal which aimed to build quality houses for the American middle class. The lovingly restored home, which Wright called "My Little Gem" during a 1951 visit, features an L-shaped floor plan and horizontal, cantilevered roof planes. This tour offers a unique view of this special home, its landscape, and the story of a couple whose vision and determination allowed them to achieve their dream. (Image Credit: James Haefner)
Tour availability for 2017 is as follows:
Tour Date

11:30am-1:00pm
Photography+

1:30-2:30pm

3:00-4:00pm

Sunday, May 7

Available

Available

Available

Saturday, May 13

Available

Available

Available

Sunday, June 4

Available

Available

Available

Saturday, June 17

Limited Availability

SOLD OUT

SOLD OUT

Saturday, July 15

Available

Available

Available

Saturday, August 12

Available

Available

Available

Sunday, September 10

Available

Available

Available

Saturday, September 23

Available

Available

Available

Sunday, October 8

Available

Available

Available

Saturday, October 21

Available

Available

Available
Photography+ Tours
Photography+ Tours are the first tour of the day from 11:30am to 1:00pm. These tours are $55 per person, and photography is allowed inside the home, for personal use only. This is longer than our standard tour and has fewer visitors for a more intimate experience. Tours are limited to 15 guests. Please note that no tripods and no flash photography are permitted inside the house.
Public Tours
Public Tours are from 1:30-2:30pm and 3:00-4:00pm and are $35 per person. These tours are one hour long, and only allow exterior photography, for personal use only. Tours are limited to 18 guests.
For the safety and comfort of all visitors, children younger than eight years old, including infants and toddlers, are not permitted on this tour. Due to the historical status and intimate nature of the House, many rooms and passageways are very narrow and therefore the house is not wheelchair accessible.
Only small wallets and handheld cameras are permitted on the tours. Please leave all backpacks, purses, camera bags, camera equipment and other cumbersome items in vehicles. This policy was created for the security and protection of Smith House and its collection of fine and decorative art.
All tours are walking tours and guests must be able to walk and stand throughout most of the tour. There are no places to sit down in the house itself. There are no public restroom facilities at the house itself; please use the facilities at the Cranbrook Art Museum before beginning your tour. Tours take place rain or shine. To protect the historic integrity of the home, you will be asked to remove your shoes and wear booties that will be provided.
Tours of the Smith House, which is owned by a private foundation, are available through the Cranbrook Center for Collections and Research.
To make a reservation, please call the Center at 248 645.3307. Reservations must be received by 2:30pm the Friday before your desired tour date.
All tours of Smith House depart from the front desk of Cranbrook Art Museum. If you have a confirmed reservation, please arrive at least 15 minutes in advance of your tour time to check in. We will take a shuttle to the home promptly at the start of your tour time. There are no refunds or exchanges.
Spend the day in Bloomfield Hills and plan a visit to Smith House AND the Frank Lloyd Wright Affleck House located just a few minutes away.